In a significant development last month, the AIM Leaders Council announced the induction of 29 new members, further strengthening its diverse coalition of global experts. The new entrants represent a broad spectrum of industries, including finance, technology, retail, and government, and are expected to bring fresh perspectives and invaluable expertise to the council.
The new members of the AIM Leaders Council include:
David Tan, Income Insurance Limited
Bobby Thomas, Prudential Corporation Asia
Padmanabh Padiyar, OCBC Bank
Gagan Bhargava, Schneider Electric
Biswanath B, FinAccel
Damian Leach, Workday
Bireshwar Dasgupta, Standard Chartered Bank
Aditi Sawhney, Mastercard
Bhagyesh Chaubey, Citi
Eddie Lim, Singtel
Abhinandan Mandhana, Bank of America
Lakshmi Venkatesh, GIC
Leo Nuo Jiang, Huawei
Sachin Tonk, GovTech Singapore
Deep Thomas, Nomura
Adam Masters, L'Oréal
Aswin Sreenivas, StarHub
Sri Lakshmi, Switz Group
Khaled Abousamak, Higher Colleges of Technology
Arun Mehta, First Abu Dhabi Bank (FAB) Abu Dhabi Bank
Deepa Pillai, RAKBANK
Rafik El Noumeir, PepsiCo
Sid Ahmed Benraouane, Dubai Government
Piyush Chowhan, Panda Retail Company – Savola Group
Ebrahim Al Alkeem, Government of Abu Dhabi (UAE)
Jason Thomas, adidas
Faten Abdullatif, Roads and Transports Authority
Ram Kumar, Cigna Healthcare
Shailesh Jain, Landmark Group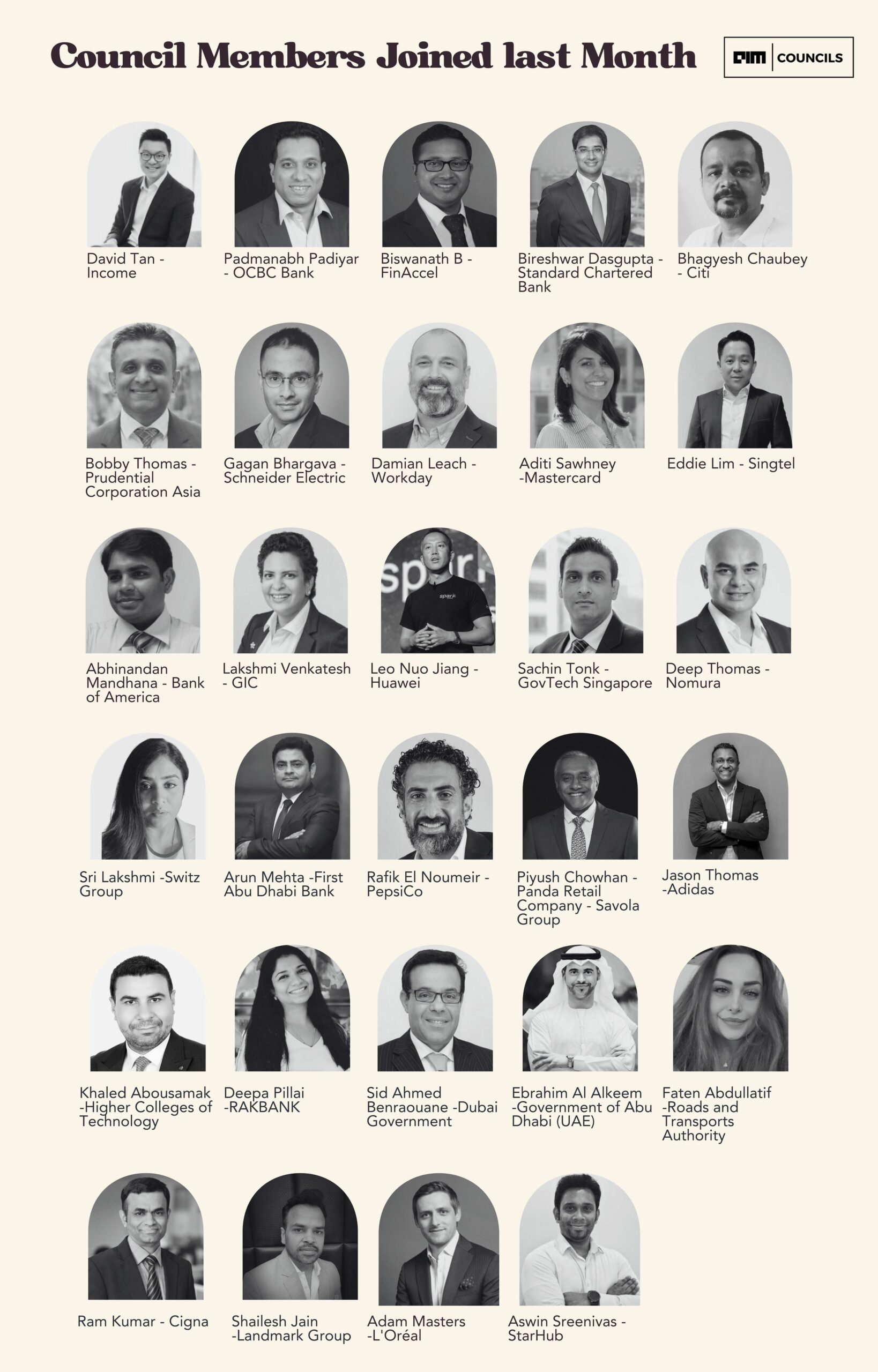 The AIM Leaders Council, known for fostering collaboration and innovation in the fields of AI, data, and digital transformation, expressed its excitement over the new additions. The council anticipates that the diverse expertise of the new members will lead to unique insights and innovative ideas, further enriching the community.
Eddie Lim, Head of Data & Analytics at Singtel, one of the new members, shared his enthusiasm about the upcoming collaborations, stating, "Looking forward to the upcoming meet up with fellow data & analytics practitioners!" Bobby Thomas, Head of Governance & Analytics at Prudential Corporation Asia, also expressed his excitement about joining the platform, stating, "It's brilliant to be on this platform with the brightest minds, across industries, across geographies!"
The AIM Leaders Council continues to grow and evolve, fostering a platform for knowledge sharing and collaboration among the brightest minds in the industry. The recent induction of new members marks a significant step in this ongoing journey.
AIM Leaders Council is World's Biggest Community Exclusively For Senior Executives In Data Science And Analytics. Learn about eligibility criteria here.